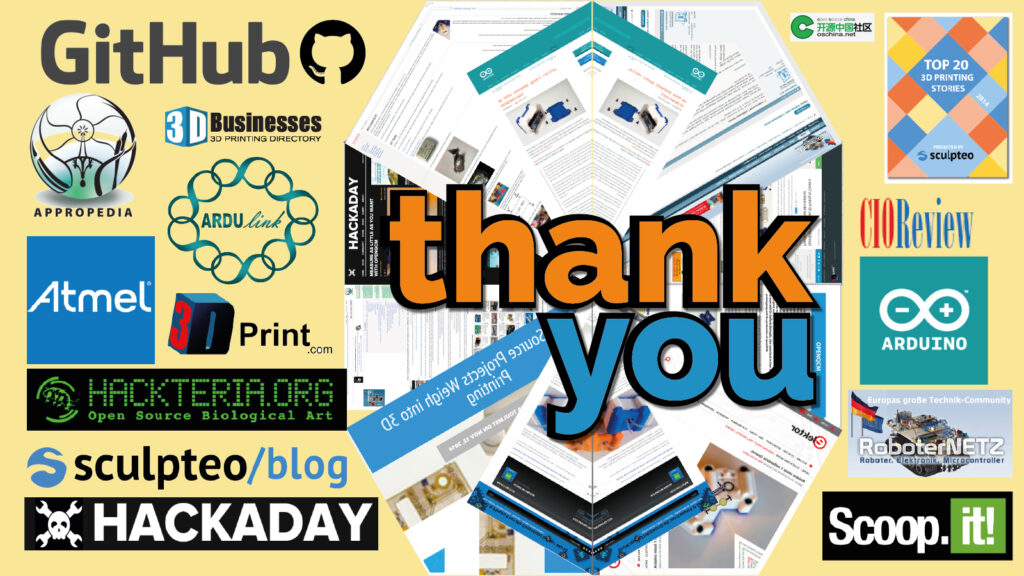 The openQCM is really proud to share the latest reviews about the open source quartz crystal microbalance. This is also the opportunity to give thanks to people supporting the openQCM project.
This is a very exciting moment for the openQCM project. We have launched the openQCM store online  about one month ago and it is a success beyond all expectations !
In addition we was pleasantly surprise to read about the openQCM project all around on the web. So I have decided to collect the post in a press review. Hope you can find the review interesting. Good read !
DESIGN
Sculpteo is one of the best 3D printing company for rapid prototyping and manufacturing process. Sculpteo created the first openQCM devices ant it was really awesome.
Sculpteo wrote about openQCM on the blog
"Open Source Projects Weigh into 3D Printing" read more…

In addition, they have selected openQCM as one of the top stories of 2014
"TOP 20 3D printing stories 2014"  you can download the pdf here
3Dprint.com is a news organization promoting the most interesting news from the 3D Printing Industry.
"OpenQCM Project Uses 3D Printing to Create a Precision Quartz Crystal Microbalance" read more…
CIOreview  is a technology review magazine focused on innovation.
"Novaetech develops openQCM with high mass senstivity" read more…
HARDWARE
Arduino is the best solution for open source electronic hardware. Honestly, when Zoe Romano, Digital Strategy&Wearables @Arduino, contact us via email saying "I have posted your project on Arduino blog" I made some noise while driving my car !
"An open hardware quartz crystal microbalance" read more…
Atmel is leading in the microprocessor manufacturing. Arduino itself has an Atmel microcontroller at the heart. Atmel and Atmel Makes are greatly involved in open source and makers movement. We are very proud that they showed interest in openQCM project
"Creating an open-source quartz crystal microbalance with Arduino" read more…
Hackaday is an amazing, creative, open mind community collecting posts which are the gold-standard for engineers and technology enthusiasts. The Hackday blog post killed our server ! In addition, the community's suggestion were inspiring for the openQCM team.
"Measure as Little as You Want with openQCM" read more…
Elektor  is the unique international and independent electronics magazine with an in-house laboratory. The Elektor post has endorsed openQCM in Germany where we have a lot of customers.
"Arduino misst 1 milliardstel Gramm" read more…
SOFTWARE
Ardulink is the Java solution for communication with Arduino board. openQCM software is based on Ardulink. We are very grateful to Luciano Zu, the creator of Ardulink, for following the openQCM project from the beginnning.
"Ardulink meets the open hardware project openQCM" read more…
HACK
Hackteria is a collection of DIY Biology project for application in life sciences and biotechnology. They hack openQCM demonstrating that it is a real open source hardware project.
"Wild openQCM" read more…